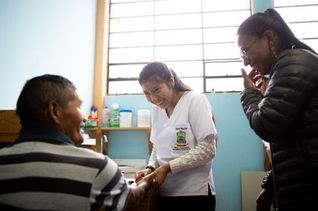 On this International Women's Day, we are highlighting one of the countless stories of bright young women who have been impacted through your support of our "Becas Con Misión" scholarship program.
Ingrid, who is from the rural community of Pacaman, is an 11th-grader and one of the nearly 100 students currently receiving scholarships through Mission Guatemala's "Becas Con Misión" (Scholarships with Mission) program. This year, she's one of 17 high school students in our scholarship program—our largest high school group ever!
In Guatemala, students are able to choose a vocational area for their high school studies. Ingrid, who is attending Colegio Liceo Eben-Ezer, a high school in Panajachel, chose to pursue her high school diploma with a specialized focus in medicine.
One of the requirements of most high school programs is that the students serve an internship that is associated with their area of study. We were excited that, at the end of last year, we were able to provide Ingrid the opportunity to fulfill this requirement in our clinic in San Andrés!
For an entire month, Ingrid worked alongside our amazing clinic staff and helped Doctora Lídia and Nurses Jessica and Ester check patients in, take vital signs, and review each patient's treatment plan with them before they left the clinic. Dra. Lidia also asked Ingrid to prepare a presentation for our monthly "Club de Diabeticos" (Diabetes Club) that would review the main causes of diabetes and the lifestyle changes that can help prevent or limit the effects of the disease. Ingrid's presentation included games and activities for the attendees that helped to break the ice and illustrate the week's lesson.
In Guatemala, a huge chasm exists between male and female students attending school. According to the nonprofit Global Education Fund, of the 2 million children in Guatemala that do not attend school, the majority are indigenous girls living in rural areas.
We believe that access to education plays a vital role in empowering young women to achieve their full potential. Although our scholarship program is open to both female and male students, we have always tried to maintain an awareness of this gender disparity throughout our selection process for the scholarship recipients each year.
We are thankful to be able to help empower each one of the strong and bright young women who are a part of our scholarship program. We are also especially honored to serve alongside the incredibly talented women who are members of the Mission Guatemala team.
If you would like to support this program and help bright young women like Ingrid reach their full potential, please visit missionguatemala.com/scholarships and donate today!