We have raised
$165,895.70
of our
$100,000.00
goal.
---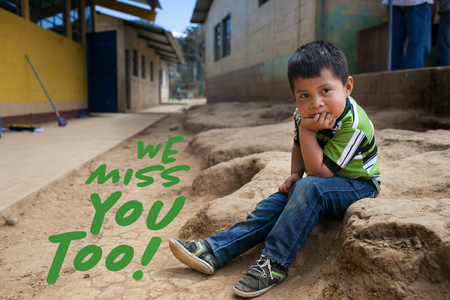 Since Mission Guatemala began in 2010, we have been welcoming teams to serve alongside us here in Guatemala. At the beginning of this year, we were excited to have a full calendar, with 44 teams scheduled to spend a week with us serving in-country! But in early March, the COVID-19 pandemic changed our plans for the rest of the year, while, at the same time, the needs of the communities we serve also changed rapidly. Many of our staff quickly shifted from their normal duties to fill roles that allowed us to continue to serve more safely and with limited exposure, while we also worked to find a new balance of how to best support communities during this time. 

With only 6 teams serving in-person in 2020, this year has felt dramatically different from the years before, a sentiment felt in many aspects of life around the world. Throughout this year, we have heard from many of you. Your concern and care during this unprecedented time has been a blessing. You've shared that you miss serving with us. WE MISS YOU, TOO! 

Since the start of the COVID-19 pandemic, our mission to "do all the good we can" has not wavered. But, our financial support has been greatly affected as we have been unable to host volunteer teams here in-country. The per-person fee paid by each team member who serves with us not only covers team-related costs such as transportation, meals, and the River House mortgage, but a portion of it also provides support for many of Mission Guatemala's health, education, and nutrition programs. That's why we have set as our goal to raise $100,000 by the end of this year, and we are excited to announce that several gracious supporters have pledged to match any donations up to $50,000 through the end of 2020!

We are grateful for you and your support! By donating today, you'll help us continue the work of loving and serving our neighbors here in the San Andrés area and beyond!