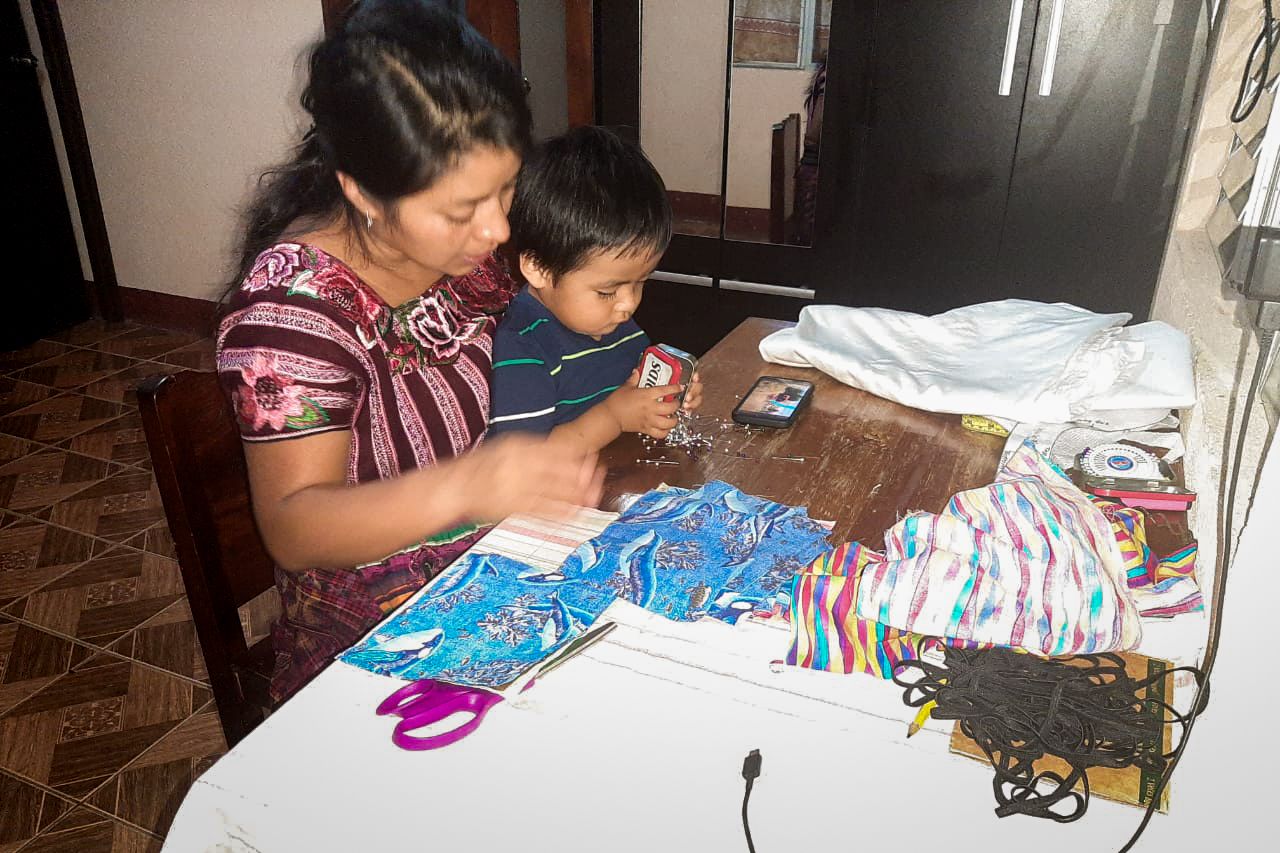 We're excited to continue sharing more pictures and stories from our staff members, each of whom has adapted to the changes required by this unprecedented time, and who are contributing in so many meaningful ways to Mission Guatemala's goal to continue to "do all the good we can!"
This week, we're sharing a story from Devora Cumes, Mission Guatemala's "Becas con Misión" Scholarship Program Coordinator. Devora normally spends much of her time working alongside students enrolled in the scholarship program and their families, but like all of our staff members, she has worn several different hats during these past few months.
In the first picture, Devora, along with her son, Aaron, works from home on the masks that Mission Guatemala has been providing to healthcare workers and our neighbors in local communities. In the second picture, she helps deliver boxes of food and cleaning supplies to families of scholarship students and of children in our "Niños Chispudos" program earlier this month. (You can read more about these distributions here: tinyurl.com/y9z8f3gr)
By Devora Cumes:
As part of the Mission Guatemala team, we have seen the need to work from our homes due to the Covid-19 pandemic, which has changed our lifestyles, our work, our family, our economic life and many other areas of our daily routine.
In Guatemala we have seen it effect a large part of the population, specifically in the rural areas, which are the most vulnerable, and which are faced not only with the appearance of the coronavirus, but also with poverty, high rates of malnutrition in the child population, and a lack of basic services and of health care, all of which makes them even more vulnerable to such a situation.
Thanks to the unconditional support of Mission Guatemala through the "Becas Con Misión" scholarship program, we have benefited 91 students from under-resourced families, where the parents are farmers, construction workers, vendors, and only a small part of whom have completed high school.
Mission Guatemala accompanied and supported the students and their families before the appearance of the coronavirus, and now it continues to do so during this difficult time: making visits, delivering boxes of food supplies, hygiene kits and also the masks that have been produced by the staff team of Mission Guatemala.
We're grateful for the generosity of each of the donors who make the "Becas Con Misión" scholarship program possible, and thanks to them we are able to continue helping students and their families during this critical time!