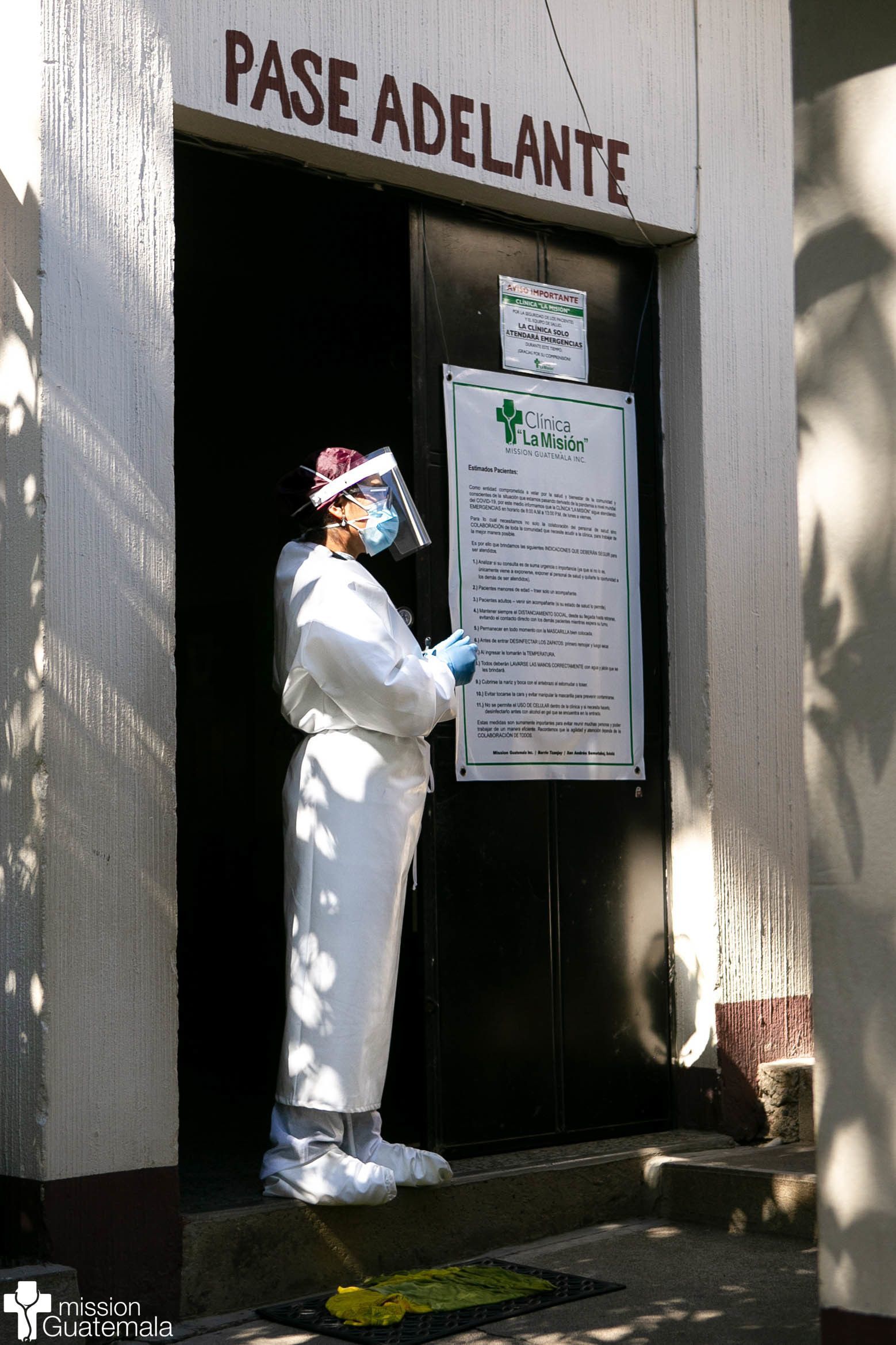 Today, we share with you a COVID-19 update from our clinic doctor, Dra. Lidia Balán. We are grateful to our medical and clinic support staff, who, over a year since the start of the pandemic, continue to serve patients during this unprecedented time.
By Dra. Lidia Balán
Guatemala is still being greatly affected by the COVID-19 disease caused by the SARS-coV-2 virus, recognized by the World Health Organization as a pandemic on March 11, 2020.  Since then, sanitary measures have been decreed to mitigate its spread, but, knowing that Guatemala is a country where 66% of the population lives on an informal salary and people have to ensure the supply of their daily needs to survive, it is impossible for them to be able to stay at home, but on the contrary they have to go out and face the risk to be able to obtain their food and other basic services for the day to day. In addition to this, there is also a large number of people who do not believe that the virus really exists and who refuse to wear masks and follow social distancing protocols; this generates a faster increase in cases.  Currently, it is projected that mask use has decreased from 91% to 84%, generating almost 1,000 new COVID-19 cases per day and filling the hospitals with moderate and severe cases.
According to the information published by the Guatemalan Ministry of Health, the number of cases nationwide as of April 5, 2020 were as follows: 8,080 cases screened on that day; 1,340 of these were positive cases and 9 people died. Currently there are an estimated 8,585 active cases. From the beginning of the pandemic there are a total of 197,020 registered cases, an estimated 181,532 recovered cases and 6,903 registered deaths.
Regarding San Andrés Semetabaj, for several weeks there had been no cases until March 18th when an outbreak began. By March 23rd, there were 25 active cases, but this number has decreased and according to data from the Public Health Office in San Andrés on April 5th, there were only 2 positive cases.  As of April 5, 2021, a total of 106 cases had been registered, 8 deaths and 96 recovered cases, but we are aware that there are people who do not seek help from health services out of fear and also asymptomatic people who are not registered—this is true at the national level as well.
At Clínica "La Misión", we continue to record, monitor, and provide follow-up for suspected and positive COVID-19 patients in coordination with the local San Andrés Semetabaj Health Office in order to prevent people from suffering health complications and having to go to the hospitals or, even worse, from dying at home. That is why we are very grateful to all the donors for the great support that they provide day after day because, thanks to it, we are able to continue doing all the good that we can. We are thankful to God that our medical personnel have received our first vaccine dose, but we continue to face a high risk of exposure, so we are very grateful for the personal protective equipment that continues to be provided for us. 
May God bless you and multiply your help.  Hugs and greetings from a distance.


Para leer en español, utilice este enlace.