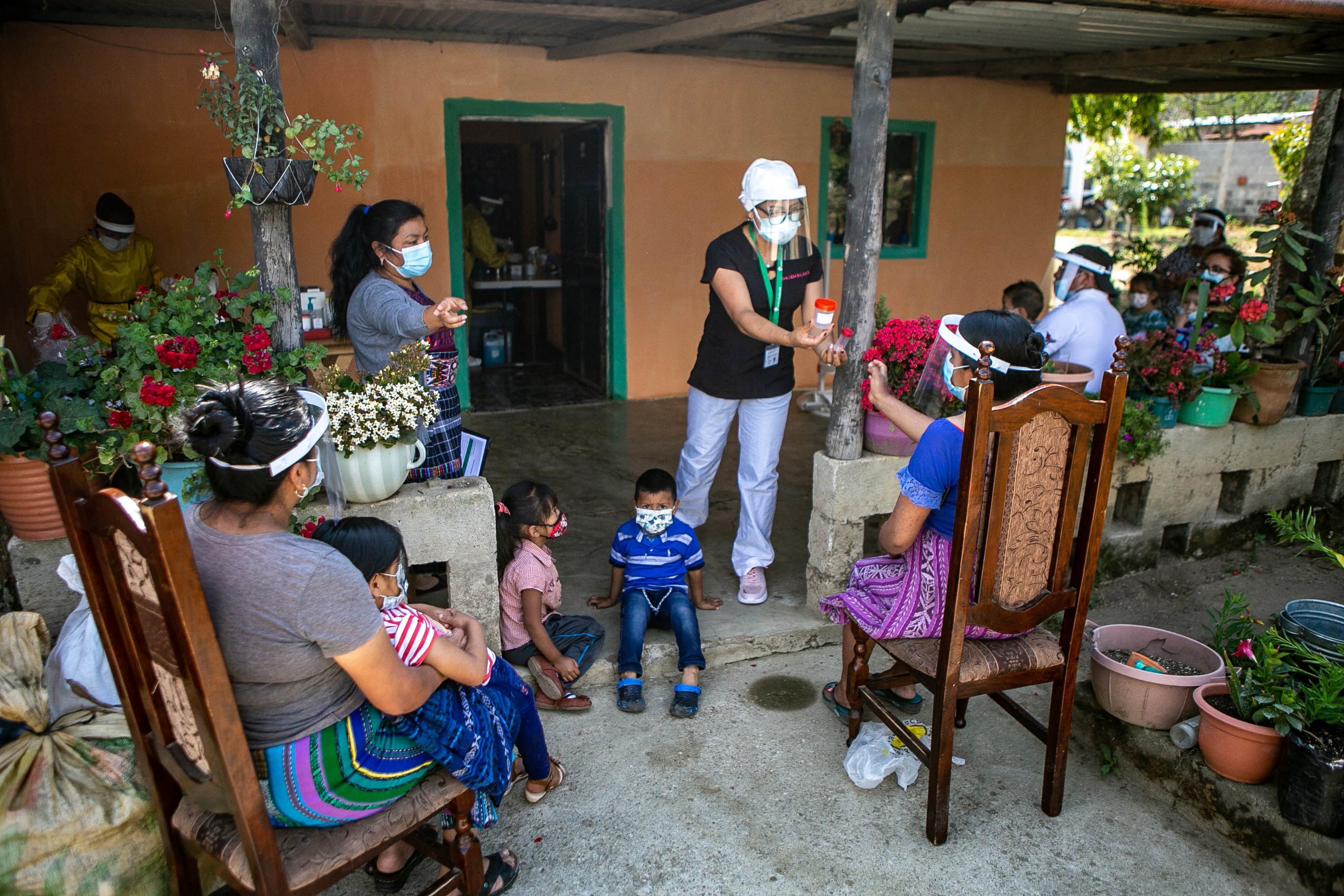 Through the past decades, Guatemala has consistently ranked as having not only one of the highest levels of childhood malnutrition in Latin American, but also worldwide. In 2019, the World Health Programme found the average rate of chronic childhood malnutrition to be 46.5% nationally, with the rate reaching 90% in some areas.  Such a widespread lack of consistent access to nutritious food—especially during a child's critical early years of development—has devastating and lasting impacts, leading to stunting, anemia, and chronic infections and sickness.
In 2015, as part of Mission Guatemala's focus on health and nutrition in the San Andrés area, we developed the "Niños Chispudos" (Kids With A Spark) program, with the goal of providing daily nutritional support for children between 6 months and 6 years of age. One of the core components of this initiative is the Chispuditos® nutritional product, a corn-based mix which contains 21 vitamins and minerals that are vital for healthy development in the critical first years of a child's life. Because the Chispuditos® mix is corn-based and can be prepared as an "atol," which is a traditional Guatemalan drink, it is well received in the rural communities and more easily incorporated into a child's daily diet.
At the start of 2020, before the pandemic began, there were 130 children enrolled in the"Niños Chispudos" program in 6 different communities, but over the past year, as families have struggled due to a lack of resources and access to work, the number of children enrolled in the program has increased dramatically. Currently, the "Niños Chispuditos" program is providing a total of 170 children from 6 months to 6 years of age with daily nutritional support!
Over the past year, even as we were limited by the pandemic restrictions, the Mission Guatemala staff began to envision and develop an expanded and more robust "Niños Chispudos" program. Our goal was to go beyond simply providing the daily nutritional support that the program had traditionally given, to providing a more individualized and focused medical care for each child, as well as to develop a follow-up care plan for cases of severe malnutrition. 
Though children in the "Niños Chispudos" program have always been given access to Mission Guatemala's medical clinic free of charge, often the cost of transportation or the distance of the clinic from their homes has been a limiting factor to families. During the pandemic, government restrictions restricting movement, along with increased public transportation fares, made it even more difficult for mothers to bring their children to the clinic for routine medical care.
In order to be able to provide medical care for the children in the program without the families needing to all travel to Mission Guatemala's clinic, over the past months we worked together with our clinic and laboratory staff to develop a plan for organizing on-site "community clinics", in order to amplify and expand the impact of our "Niños Chispudos" program in the 6 communities where it operates. For these medical visits, we would bring the parents and children to a site within each community, while limiting the number of children gathered each day in order to ensure that there would be sufficient time for each child to receive individualized attention and care, as well as to promote social distancing.
During the visit, each child would receive a physical exam with our clinic doctor and nurse, as well as a battery of basic lab tests performed on-site by the technician from our clinic laboratory. The height, weight and age of each child would be entered in an app, which allows each child's progress on the World Health Organization's growth charts to be charted and recorded over the long term. During the consultation, each mother would also have the opportunity to talk about her child's condition with the doctor, and the doctor could provide any medical treatment and additional vitamin supplements that were needed.
During this visit, members of Mission Guatemala's staff would also conduct personal interviews with the mothers in order to help us better understand each family's socioeconomic status and other factors that might affect their child's health. They would also organize brief educational workshops emphasizing the importance of healthy eating and basic hygiene practices, in order to help provide the knowledge and encouragement for the mothers to integrate these practices into their daily routines at home.
On April 13, we held the first "Niños Chispudos" community clinic in the community of Chuiya, where there are 10 children enrolled in the program! The mothers of these children expressed their deep gratitude for this support being provided for their children, since many of them have not had the possibility of being able to take their children to a general doctor's appointment—due mainly to a lack of economic resources, but also often to a lack of understanding how truly important it is.
Mission Guatemala is grateful for the opportunity to organize these community clinics, as they allow us to continue developing relationships with each of the families in our "Niños Chispudos" program, and to better understand how we can support and help meet the needs that these families confront each day.
We are grateful to be a part of this journey in doing all the good we can! Join us in this exciting expansion to the Niños Chispudos program as we further serve the needs of these communities!
Click here to see more photos from Chuiya!
Click here to donate today!