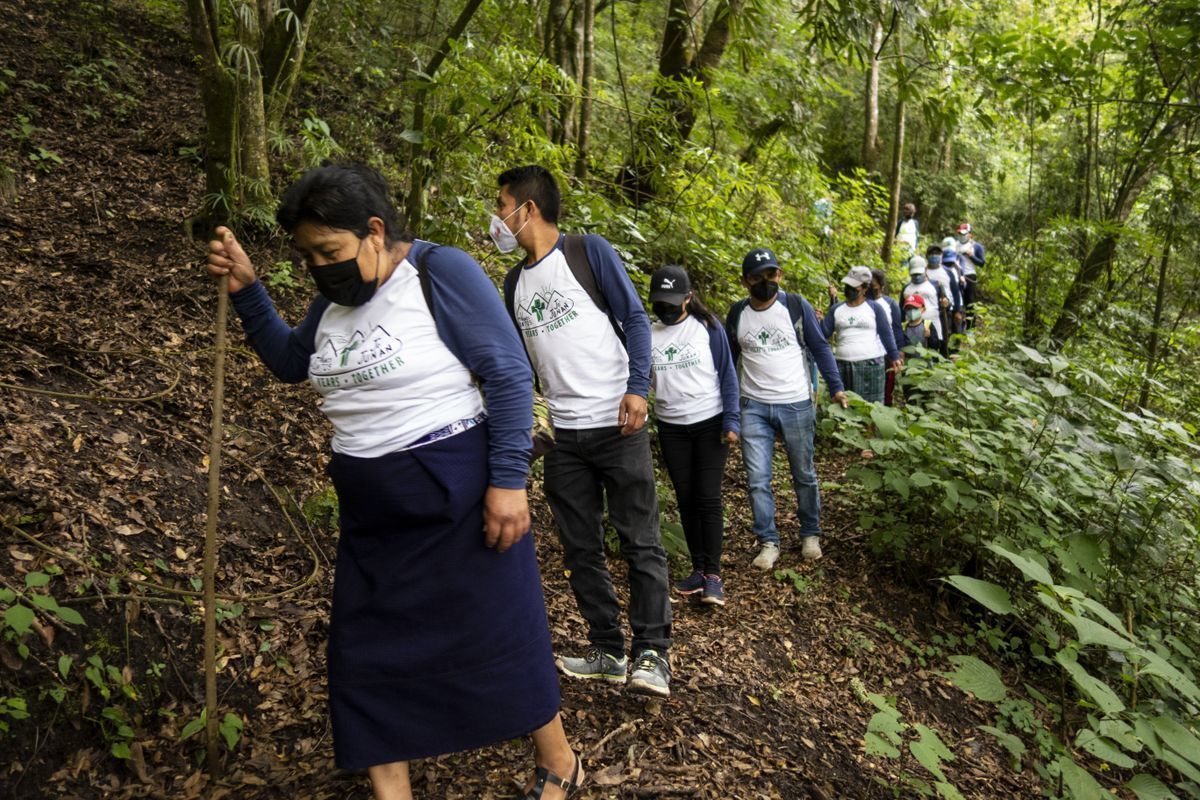 On October 17, Mission Guatemala staff came together to celebrate our 11th anniversary with our 5K "Caminata" in the beautiful hills of San Andrés Semetabaj! Over the past year, due to the social distancing requirements of the pandemic, our staff has not had many opportunities to be all together in one place. The fact that we could spend this day together as a team—as well as together with so many of the other members of our Mission Guatemala family across the world—made this beautiful day even more special.
We want to share some of our staff's favorite aspects of the event, as well as some of our memorable photos from the day. 
To see more photos from the day, click here!
---
My favorite part of the day was to be able to spend time with co-workers and their families, and to also be able to share this activity with my friends and family in Alaska and Florida—in spite of the distance, I could feel their support and love. I also enjoyed that we could share a special meal together. —Abby
An extraordinary day: Caminata – "B'inen" (Caminata in Kaqchikel)
I feel very fortunate to belong to the Mission Guatemala family, and participating in the 5K was a very unique experience in every aspect, from the preparations for the event to the delicious meal we prepared as a team!
I know that the event was for a variety of reasons, but that the main reason was for fundraising, and knowing that we reached our goal with the help of so many people from all over the world, fills me with great satisfaction.
What I enjoyed most was walking for a cause, of having a way to contribute to the work carried out in this organization, and at the same time being able to spend a day, along with my husband, that was out of the ordinary and relaxing, both for myself as well as together with this team that gives its best every day so that this organization continues to serve all of us who need it. —Marily
For me it was a very happy and motivating experience, since the place where we went was surrounded by nature, and as we climbed, the view became even more beautiful. I was also very happy to know that this event contributed to helping people in need, and that thanks to the collaboration with groups that were in other countries, this could be possible. I hope we can do this event again in the future, and in the meantime, let's continue "walking together." —Iris
What I enjoyed the most about the walk was having the experience of walking and climbing the mountain, even though I was a little tired because of being pregnant, but at the same time I was happy to have shared in this activity. And at lunch, I liked the grilled shrimp! The last time I climbed this mountain was in 2017 when I was pregnant with my first child and now climbing the mountain this year it once again coincided with my pregnancy. I am thankful for the day and for the unique experience, for this beautiful group, and for the fact that we were able to share the day together despite the restrictions due to the pandemic. —Devora
What I enjoyed the most the day of the walk was the fellowship with the whole Mission Guatemala family during the walk—and the delicious food! —Daniel
It was a very blessed, fun and relaxing day, I loved the interaction with the group, but it was a challenge for me as to whether I was going to be able to achieve it due to how far along I am in my pregnancy, and the fact that I was able to achieve it made me very happy, and I was glad to be able to add my grain of sand. I was also very motivated knowing that, despite the distance, we felt very close and united with the other groups who also walked or collaborated that day. I just hope we will repeat the event next year and make it even bigger so that many who on this occasion could not join or collaborate will be able to in the future. I assure you that you will not regret it! —Lidia
Another experience of sharing life with the Mission Guatemala team, all together as staff as well as with our loved ones, we enjoyed looking down on the beautiful landscape from above all together as a family. The most important thing was that we set out to fulfill a mission and that we did it from the heart. —Francisco
The activity was very beneficial as it contributed to our health through exercising physically and mentally and especially, getting to breathe fresh air. I'm thankful to have been a participant in it! —Rosa
What I liked the most was the walk and sharing time and fellowship with everyone who was there that day. —Denis
I thank God for allowing us another anniversary year with Mission Guatemala. I liked the Caminata because it was a chance to know this beautiful place, and I also had a good time with all the friends and work colleagues. Thanks to Leigh and all the staff for organizing this activity; I enjoyed seeing the view from the lookout point and I had a happy time. —Irma
The Caminata was such a blessing for me because even though I'm so far away from my coworkers and friends, it felt as though my family and I were able to be there together in Guatemala in spirit as we hiked here in South Carolina! —Leigh