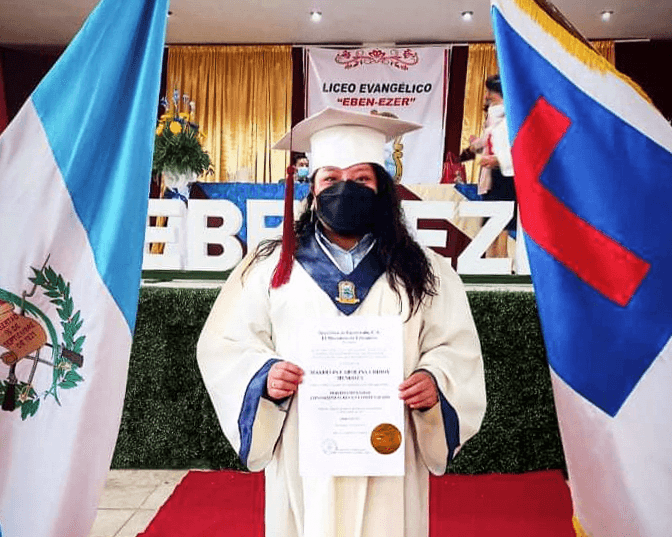 As we reach the end of another school year—in Guatemala the school year runs from January through October—we are excited to share thank-you letters written by graduates of our "Becas Con Misión" (Scholarships with a Mission) program over the past 2 years!"
The "Becas Con Misión" scholarship program helps provide an opportunity for students to continue their education beyond elementary school, which is the education level that the Guatemalan government requires and readily provides. 
Despite the challenges of COVID-19, we were excited to see 4 scholarship students graduate from high school this year! To find out more about our scholarship program and to learn how you can help, please visit https://missionguatemala.com/how-to-help/scholarships.html.
We are thankful for the generosity of so many who have made this program possible, and we are excited to share these messages of thanks from the students themselves! 
---------
I am writing to thank you for the great support that you have shown towards me, and for the support that you gave me through the scholarship, which was a great help to me as well as for my family. In part because of my father's illnesses, it has been difficult for him to support us, and that is why I came to you for help, and you gave me this opportunity that I needed.
I want to thank you as well for the beautiful experiences and opportunities that you organized for us to spend time together with other students, because they were unique and unforgettable experiences. Thank you as well for the motivational talks and all the delicious meals that you gave us with affection. For me it was a great privilege to have been a part of this organization. 
I hope that Mission Guatemala will continue moving forward, and I ask that this support through the Becas Con Misión program won't end with us, the students that you have already helped, but that you will continue to help more young people like me to be able to accomplish their goals and achieve their dreams. 
Thank you so much. May God give you wisdom and fill you with blessings. May God bless each person who contributes to Mission Guatemala's work. 
---------
I would like to express my gratitude and my entire family's gratitude for the financial help that you have given me during these six years of my academic preparation. Thanks to the scholarship, I have graduated high school with a specialization in Community Development. You played a fundamental role in my being able to graduate and achieve one of my goals. I am profoundly grateful and satisfied that I was part of the "Becas con Misión" program, and I am amazed because you have definitely demonstrated that you are an organization committed to well-being and development. I feel fortunate to have shared experiences with great people.
---------
I am very grateful to the Institution for the support that you gave me these past 5 years. Thanks to Mission Guatemala I was able to go through middle school and finish high school with a specialization in Computer Sciences. I thank you with all my heart. May God bless you and may you continue being able to offer this help to other young people who need it.
-----------
For me, Mission Guatemala represents many experiences that I have lived. It is difficult to put into words how grateful I am that you have walked alongside me on this long educational journey. Every step that I have taken has involved learning experiences. 
Mission Guatemala supported me with my financial expenses such as inscription and tuition fees, school supplies, workshops and motivational talks that were a great help to me to be able to advance in my education. Thank you for helping me understand what studying and an education mean through the workshops and talks that contributed to my learning experience.
---------
I would like to express my most sincere gratitude for having given me the opportunity to be a part of the program "Becas con Misión," because for six years I received the benefit of your support—both moral and economic—so that I could continue my academic development from middle school through to receiving a high school degree with a focus in Accounting.
Thank you so much for granting me the opportunity to study, as without this I would not be able to be competitive in society, specifically in my field of work. Thank you as well for all the workshops, training sessions and moments of fellowship that motivated me to keep going and to make a greater effort in my studies. Most of all, thank you for taking me into consideration for this program.
---------
It is a pleasure to be able to greet you, hoping that God pours out his blessings on your daily work.
The main reason for this letter is to show my gratitude towards you and the prestigious institution that has, during these five years, shown me support, understanding, help, dedication and affection.
I thank you for having considered me qualified to receive a scholarship with Mission Guatemala Inc. Without a doubt it was a blessing and support allowing me to achieve a very important step in my education. Through this scholarship I have learned the importance and benefits of the life of a student.
Over these five years I have met many humble, hard-working people at the Mission, and also young people whom I had the opportunity to meet through the institution. I also want to thank you for the opportunity that I had to do my high school internship at Mission Guatemala's medical clinic. I am infinitely grateful for the support that you have given me.