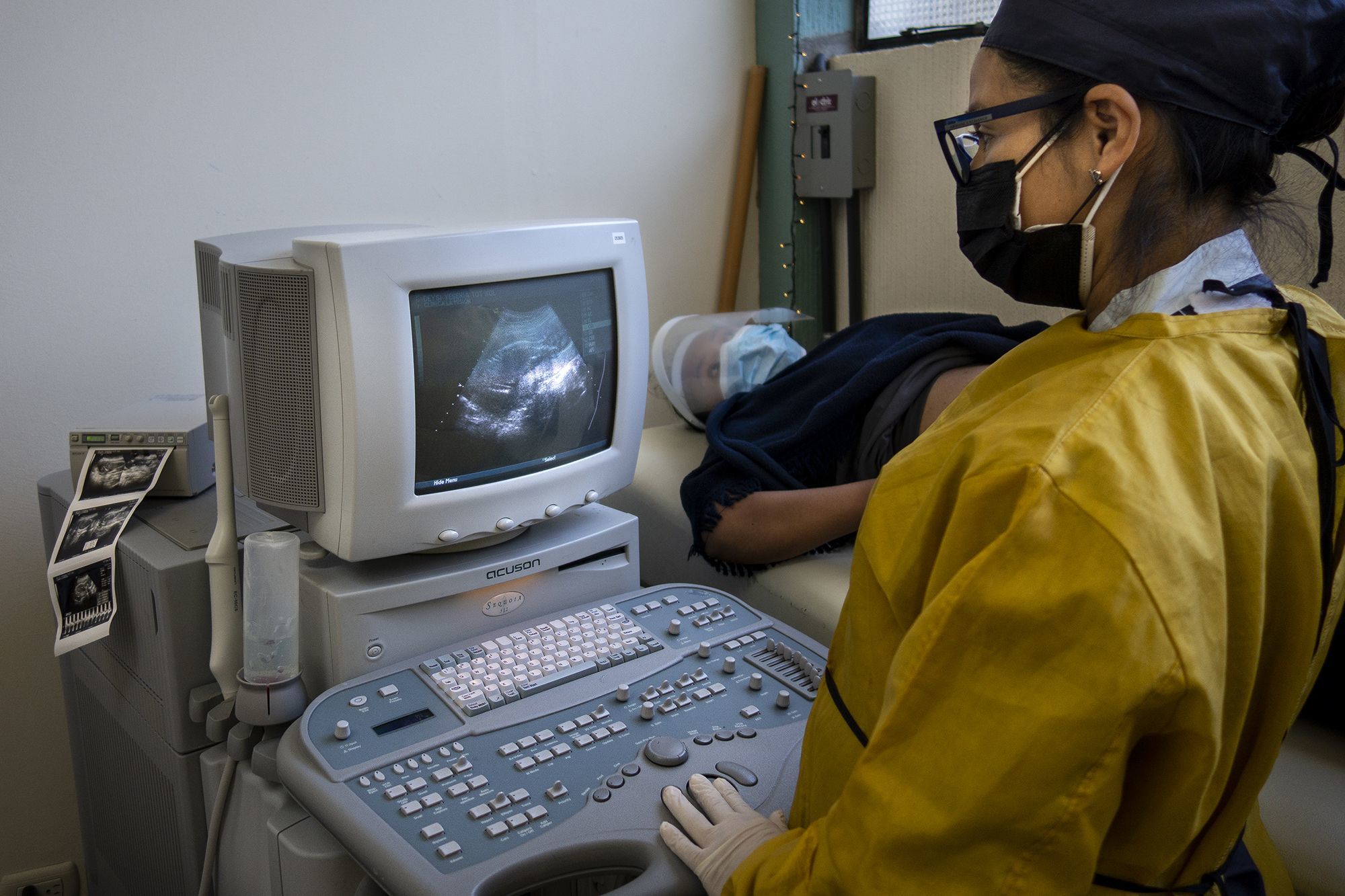 When Mission Guatemala first began eleven years ago, our primary focus was to provide quality, respectful and loving medical care to improve the health of our neighbors in San Andrés Semetebaj and beyond. Since our clinic first opened in 2010 with only just a few, most basic pieces of equipment, thanks to the generosity of so many supporters through the years, the equipment that the clinic has had—and the services that we have subsequently been able to offer—has continued to improve.
One major improvement came in 2011 when Johns Creek UMC helped secure a portable ultrasound machine for our clinic. Their pastor at that time, Dalton Rushing, carried the ultrasound on the plane as his carry-on! Through the years, their donation of an ultrasound machine has allowed expectant mothers to see their unborn child—even giving them photos of their unborn child to take home—and it has provided our doctor help in calculating due dates of babies, discovering fetal abnormalities and identifying intra-abdominal pathology.
In recent years, however, after gaining more experience and training with ultrasound equipment, Dr. Lídia, our clinic doctor, had voiced hope that at some point the clinic would be able to have a larger and more advanced machine that would allow her to provide the patients with an even higher level of service.
And we are excited to share that this dream has now come true, thanks to a newly refurbished ultrasound machine that was provided through a donation from Probo Medical in Fishers, Indiana, coordinated by Anthony and Lyle Brown of Zionsville UMC! With the help of former board member Rodney Freiden and Pack Away Hunger, who stored the machine in their warehouse, and board member Steve Garland and Sealed Air® who arranged and covered the shipping of the machine to Guatemala, the ultrasound has arrived and is now being used in our clinic!
Dra. Lidia shares: "Having an ultrasound machine at Mission Guatemala's clinic has always had an incredible impact, since the local San Andrés Semetabaj government health clinic has no ultrasound equipment. It has been a blessing that Mission Guatemala's clinic has had one—even a small one—where we could do ultrasounds for pregnant women and monitor the appropriate growth and development of their babies.
"But things have recently taken an extraordinary turn because we now have this bigger ultrasound machine, one that has much better resolution and capacity, speakers, and many functions that the small portable one did not have. We can now listen to the heart of each baby on the ultrasound, see details such as veins and arteries, save the information from each patient in the system, and, best of all, we can see the images with much greater clarity—which helps me do the examination and makes it more exciting for the mother to see everything clearly!
"It is wonderful to be able to be sure that everything is truly fine with the pregnancy or to be able to detect if something is wrong. And with this new machine, I will now be able to do other types of ultrasounds beyond just obstetric ones. Thank you for this great help!"
We are grateful for all of the amazing people who have helped us with providing quality medical care over the years, allowing us to "do all the good we can!" ¡Muchas gracias! We are so grateful for you!